Blu-ray Champion
Lexx SciFi TV Series co-writer, actor & producer, Lex Gigeroff, R.I.P.
---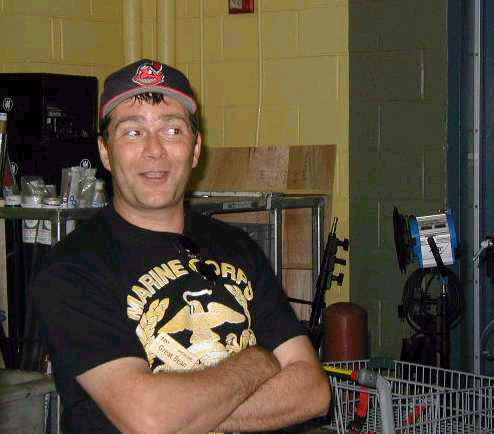 Lexx season 1 intro
"Sometimes Lex Gigeroff spoke in exaggerated voices, broke into funny facial expressions and slipped into different characters over the span of a single conversation.
The actor, filmmaker, writer and playwright loved to make people laugh. He also enjoyed lending a hand, often sharing the knowledge he picked up during a long career in the arts - most notably serving as a co-writer on the cult sci-fi TV show Lexx.
Tragically, Gigeroff died over Christmas at his Fredericton apartment.
Michel Guitard, one of Gigeroff's friends, collaborators and business partners, found him in bed Tuesday, likely watching a movie, with the turkey he planned to cook on Christmas Day still thawing in his sink.
He said he was told the 49-year-old man died in his sleep from natural causes, but he couldn't say what claimed his life.
"It was totally a shock," he said, noting Gigeroff didn't seem to have any obvious health problems before his death.
"He was just watching a movie. He had all this stuff he had planned to do."
Guitard said Gigeroff was a great guy.
"With any crowd he was in, he somehow became one of the boys. People took to him pretty quickly," he said.
"He was very charismatic. Always a smile on his face. He'd have multiple personalities - he was an actor - so you'd be talking to him and he'd throw on different accents and slip into different characters and stuff. It was always good for a laugh."
When Guitard was working on a short film several years ago, Gigeroff offered to help him with the script.
"After that, we became buddies," he said.
Alexander Kier Gigeroff grew up in Yarmouth, N.S., and was named for his artist father.
He established himself as part of Halifax's thriving independent film community in the 1980s and 1990s, working on Lexx while the show aired between 1997-2002.
He moved to the capital region two years ago with his family, which includes 20-year-old daughter Andrea and 18-year-old son Kier.
It wasn't long before Gigeroff joined the New Brunswick Filmmakers Co-operative and began meeting people throughout the industry.
Soon, he became an important local resource.
"He'd definitely adopted a mentorship role," said Guitard. "He helped with dozens of projects. He helped people with their scripts, he acted in a whole bunch of projects for people, often for free, which is sort of crazy since his background is as a professional.
"He was always working on so many projects that he'd start to spread himself thin. He'd say, 'Well, that's it. I'm not taking on any more projects for the rest of this year.' But sure enough, the next day he'd be telling you about this new project he signed up for."
Tony Merzetti, executive director of the New Brunswick Filmmakers' Co-op, said it's a big loss for the industry on both personal and professional levels.
"He was very serious about the craft. He was always very selfless in that it was never about him - he was always working to improve the project," he said.
"He always had a very collegial attitude. Everyone was on the same level. He was never boastful about what he had done before. In fact, you wouldn't even know the number of credits to his name unless you did the research yourself. He wouldn't put it out there."
He said he met Gigeroff about two years ago, soon after he moved to the area.
"I thought, 'Well, that's just great to get someone with all that experience in the province, that's come up here from Halifax,' " he said.
"Usually the migration is going the other way. It was exciting to see someone with those skills coming here. I thought we've got to get him involved with the co-op because I knew he could really help some of the members with their projects."
Merzetti, who directed Gigeroff in his latest film, described him as a skilled thespian.
"When he was rehearsing his lines for my latest film, he said the way he would do it was to read the script out loud and play all the characters," he said.
"He said that allowed him to see how the lines were working out and how it came to life. He said that's the way he always did things when he was writing. He really got into the characters, the motivations of the characters, why they would say their lines, how they fit into the storylines. He really thought everything through."
Ryan (Crash) Barton, a local radio personality and part-time actor, said he got to know Gigeroff while working on the New Brunswick feature Delivrance.
"He was a pretty cool guy, very funny and kind. Generous. It was really fun to watch him act," he said.
"There was just something about him, about watching him do his thing. We all kind of talked about how he sort of stole the show during his scene. I admired his work. It's definitely sad news."
Attempts to confirm information about Gigeroff's final arrangements were unsuccessful."
http://dailygleaner.canadaeast.com/f...rticle/1467575
The Alamo, Black Rain (Jp), Far from the Madding Crowd, Gray Lady Down, The Incredible Shrinking Man, Interrupted Melody, Lust for Life, Mississippi Burning, Moby Dick (Gregory Peck), The Other Sister, Ryan's Daughter, Searching for Bobby Fischer, Sink the Bismarck, Swing Kids, Testament, Them, They Died With Their Boots On, The Thing from Another World, War of the Worlds (Orig.) & When Worlds Collide