---
This is a quote from the sticky thread
http://forum.blu-ray.com/audio-theor...er-cables.html
.
Quote:
SPEAKER CONNECTIONS


When connecting the speaker wires, make sure you connect the red terminal on the receiver/amplifier to the red speaker terminal and the black to black. There are two types of speaker terminals: Binding Post & Spring Loaded, and four types of connectors: Bare Wires, Pin Connectors, Spade Connectors, & Banana Plugs.




Bare Wire
Pin Connectors
Spade Connectors
Banana Plugs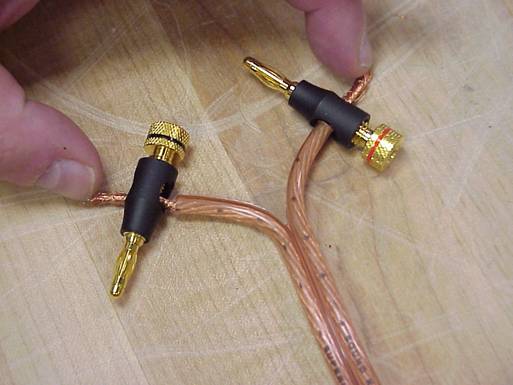 Read this guide on USING "SOLDER TYPE" BANANA PLUGS WITHOUT SOLDERING.


Pin Connectors and Bare Wires can be used with Binding Post and Spring Loaded terminals. Spade Type Connectors and Banana Plugs can only be used with Binding Post Terminals.



Binding Post
Spring Loaded
Speaker connectors are for convenience and not for quality differences.
The spade connectors probably will give you the most secure connections. They don't come loose easily. As far as Banana plugs are concerned, there are many different types of them. Check this link.
http://www.cables.com/Category/Conne...onnectors.aspx
HT Room: Panasonic PT-AE8000, Epson 1080UB Proj., Mitsubishi 65" Diamond Series HD TV, Yamaha-RX-A3010 Rec., CinePro 6-Ch. Amp. (350 W/Ch, 8 Ohm), Proton D1200 Amp., Behringer EP4000 & EPX3000 Amps., Oppo BDP-83, Sony BDP-S790, Audio Technica Tuntable, Mitsubishi S-VHS, 2 Def. Tech. Super Towers w 15" subs, 1 Def. Tech. Center & 1 Martin-Logan Center, 2 Def. Tech. Surr. & 2 PSB Surr., 2 Cadence Presence, 2 Bose 901 Rears, 2 Modified HSU 12" Subs, 1 ED DIY 12" Sub, 1 ED DIY 15" Sub, Velodyne SMS-1 Subwoofer Equalizer, DirecTV HD, Monster HTS 5000 & APC H15 Power Conditioners.
Two-Channel Room: XiangSheng Tube Preamp., Carver TFM-45 Amp. (375 W/Ch), Behringer EPX4000 Amp., Onkyo CD player, Denon Turntable, Yamaha Tuner, 2 Vintage Polk RTA-15TL Speakers, 2 LCY 100 Super Tweeters, 2 DIY Folded Horn Super Towers with 15" Sub., 1 Modified AA HD-SUB12
Family Room: Mitsubishi 73" Diamond Series TV, Yamaha DSP-A3090 Rec., DirecTV HD-DVR, PS3, Zvox Speaker, 1 DIY 12" Sub.
---
Last edited by Big Daddy; 06-23-2010 at

04:54 AM

.