This thread is to help explain the basic electronic connections that are commonly used in many of today's Home Theater components. Of course this is not a complete list but hopefully it will help beginners or those who never knew, to understand the most basic forms of connection.
*Click on Connection name for more information*
*Resolution support is NTSC standard*
VIDEO
Best to Worse:
HDMI/DVI -> Component -> S-Video -> Composite -> Coaxial

Coaxial jack
Sometimes called an "RF input," this kind of jack is commonly used for hooking up antennas, cable boxes, VCRs, TVs, etc. A 75-ohm coaxial cable can carry video and stereo audio information simultaneously. RF cable connectors (often called "F-type" connectors) either screw onto the 75-ohm jack, or just push on to connect. (
Coaxial Cable
)
There are different types of coaxial cable. Standard coaxial cable is stamped "RG-59"; higher-quality "RG-6" cable features better shielding, and exhibits less high-frequency loss over longer runs. (For connecting DBS satellite systems, it's essential to use RG-6 cable to correctly pass the entirety of the digital signal.)
Composite
(Resolution: 480i)
A composite video input or output uses a single standard RCA-style jack to pass video signals. This type of connection combines chrominance and luminance information, sending it along a single cable. Though capable of delivering a high-quality picture, composite video is not as accurate as either S-video or component video, both of which provide separate paths for chrominance and luminance.
Commonly found on A/V components like DVD players, VCRs, TVs, DBS systems, etc., composite video jacks are often grouped with corresponding stereo audio jacks (the composite video jack is usually yellow). Though they use standard RCA-type connectors, composite video cables are specially designed to maximize video signal transfer. (
Composite Video Cable
)
S-Video
(Resolution: 480i)
Found on DVD players, DBS receivers, Super VHS VCRs, TVs, and other kinds of A/V gear, S-video inputs and outputs use a round, 4-pin jack to pass video signals. The "S" in S-video stands for "separate": S-video connections transmit the chrominance (color) and luminance (brightness) portions of a video signal along different paths, allowing them to be processed separately.
S-video provides a sharper picture than composite video. However, component video connections yield even better performance than S-video by further dividing the chrominance portion of the video signal. (
S-Video Cable
)
SCART
(Used mainly outside of the USA)
(Resolution: 576i)
SCART (from Syndicat des Constructeurs d'Appareils Radiorécepteurs et Téléviseurs) is a French-originated standard and associated 21-pin connector for connecting audio-visual (AV) equipment together. It is also known as Péritel (especially in France, where the term SCART is not normally used), 21-pin EuroSCART (Sharp's marketing term for an attempt to market the connector in the Asian region) and Euroconnector.[1]
In Europe, SCART is the most common method of connecting audio-visual equipment together, and has become a standard connector for such devices (even more so than the phono plug),[citation needed] however it is far less common elsewhere in the world.[citation needed]
The official standard for SCART is CENELEC document number EN 50049-1. SCART is sometimes referred as the IEC 933-1 standard. (
SCART cable
)
Component
(Resolution: 1080p / 1080i / 720p / 480p / 480i)
This 3-cable connection allows the chrominance (color) and luminance (brightness) portions of a video signal to be processed separately. S-video works similarly, but component video improves color accuracy further by splitting the chrominance signal into two portions.
Component video connections are found on most DVD players and HDTV tuners, and on a growing number of TVs and A/V receivers. However, this type of connection can vary in bandwidth from unit to unit. To pass progressive-scan DVD signals without noticeable softening of the picture, a component video connection should have bandwidth of 12 MHz or higher; passing HDTV signals without softening requires bandwidth of 30MHz or higher. If you are only slightly shy of the required bandwidth for the signal you're viewing and your TV is 36" or less, the picture softening may be extremely subtle, or even unnoticeable. (
Component Cable
)
DVI
(Resolution: 1080p / 1080i / 720p / 480p)
The Digital Visual Interface (DVI) is a video interface standard designed to maximize the visual quality of digital display devices such as flat panel LCD computer displays and digital projectors. It is designed for carrying uncompressed digital video data to a display (Additional audio cable is needed for sound). It is partially compatible with the High-Definition Multimedia Interface (HDMI) standard in digital mode (DVI-D). (
DVI Cable
,
HDMI-DVI Cable
)
HDMI
(Resolution: 1080p / 1080i / 720p / 480p)
The High-Definition Multimedia Interface (HDMI) is a licensable compact audio/video connector interface for transmitting uncompressed digital streams. HDMI connects DRM-enforcing digital audio/video sources such as a set-top box, an HD DVD disc player, a Blu-ray Disc player, a personal computer, a video game console, or an AV receiver to a compatible digital audio device and/or video monitor such as a digital television (DTV). (
HDMI Cable
)
---------------------------------------------------------------------
AUDIO
Best to Worse -
HDMI -> Multichannel Analog (RCA) -> Optical/Digital Coax -> RCA
RCA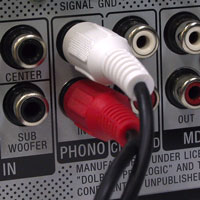 An RCA jack, also referred to as a phono connector or CINCH/AV connector, is a type of electrical connector that is commonly used in the audio/video market. Cables have a standard plug on each end, consisting of a central male connector, surrounded by a ring. The ring is often segmented for flexibility. Devices mount the jack, consisting of a central hole with a ring of metal around it. The ring is slightly smaller in diameter and longer than the ring on the plug, allowing the plug's ring to fit tightly over it. The jack has a small area between the outer and inner rings which is filled with an insulator, typically plastic. RCA has been adopted for other uses than originally intended, including as a power connector, an RF connector, and as a connector for loudspeaker cables. Its use as a connector for composite video signals is extremely common, but provides poor impedance matching. RCA connectors and cable are also commonly used to carry SPDIF-formatted digital audio, with plugs colored orange to differentiate them from other typical connections. (
RCA Cable
)
Optical
(Toslink)
Short for Toshiba Link, TOSLINK is also a CD "Red Book" standard that allows for digital audio (both left and right channels or multi-channel sound) to be transported between components using an optical conductor and light as the carrier. Contrary to popular belief, TOSLINK does not use laser light but instead relies on the output of a simple LED. The Achilles heel of TOSLINK is the optical quality of the interface. The plastic conductors used in cheap cables can damage data and compromise performance.
TOSLINK connection performance is somewhat limited by the bend radius (bending a light conductor causes internal reflections and signal loss) of the conductor design. Additionally, the TOSLINK interface is length sensitive with maximum performance available only with runs of less than 20 feet. (
Optical Cable
)
Digital Coaxial
A digital coaxial audio connection is a wired connection that is used for transfering digital audio signals (such as PCM, Dolby Digital, and DTS) from a source device, such as CD or DVD player and an AV receiver or Surround Sound Preamp/Processor. Digital Coaxial Audio Connections use RCA-style connection plugs. (
Digital Coaxial Cable
)
Multichannel Analog
Analog connection that uses standard RCA cables to produce analog sound in a 5.1 to 7.1 channel analog audio set-up. Compatible with
analog input/outputs
found on the back of many DVD/HD player and Receivers. (
RCA Cable
for each channel as needed)
HDMI
The High-Definition Multimedia Interface (HDMI) is a licensable compact audio/video connector interface for transmitting uncompressed digital streams. HDMI connects DRM-enforcing digital audio/video sources such as a set-top box, an HD DVD disc player, a Blu-ray Disc player, a personal computer, a video game console, or an AV receiver to a compatible digital audio device and/or video monitor such as a digital television (DTV). (
HDMI Cable
)
Short Video
Goofy: How To Hook Up Your Home Theater