On and off from autumn last year to the present day, have watched the episodes repeated on UK TV channel Talking Pictures TV of anthology series
One Step Beyond
(the selected episodes shown have been from the first season). Quite enjoyed them (and in some cases, enjoyed them very much).
CBS/Paramount Home Entertainment released the first season on DVD in the States, with the most recent US DVD release that I know of being a six-disc set by Film Chest. There were three seasons in total of the show. Film Chest's set has seventy episodes, the majority of them apparently being from the first and second seasons. Below are the DD and Blu-ray.com listing page links for the Film Chest release:
https://www.deepdiscount.com/one-ste...d/874757051499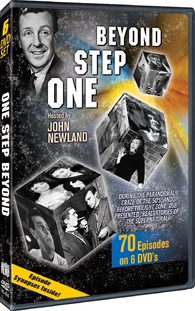 Ideally, there will be a physical media release in the not-too-distant future of all of the episodes (unless there is some sort of clearance/rights issue preventing that happening).