Hey guys, I thought you might be interested in a nifty Chrome extension I found that enables you to search multiple web stores at once. I installed it and set it up to search JB (NZ and AUS), Sanity, Zavvi, NZGameshop, Mighty Ape (NZ), and BeatTheBomb. Here's how I set mine up -
1. Download the extension for Chrome from
HERE
and install it.
2. Click the extension symbol on the browser task bar (looks like a lightning bolt) and choose Options from the drop-down list.
3. Add a new category name, key, and URLs and click 'Done'
Here's what mine looks like -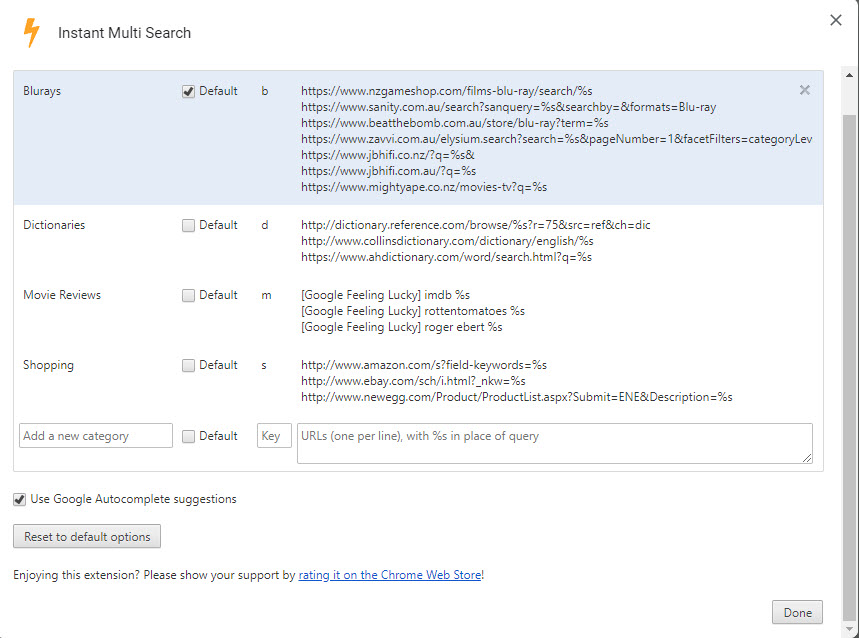 Here is my URL list if you want to copy/paste it -
Code:
https://www.nzgameshop.com/films-blu-ray/search/%s
https://www.sanity.com.au/search?sanquery=%s&searchby=&formats=Blu-ray
https://www.beatthebomb.com.au/store/blu-ray?term=%s
https://www.zavvi.com.au/elysium.search?search=%s&pageNumber=1&facetFilters=categoryLevel2:DVD+and+Blu-Ray
https://www.jbhifi.co.nz/?q=%s&
https://www.jbhifi.com.au/?q=%s
https://www.mightyape.co.nz/movies-tv?q=%s
The way it works is that you're supposed to type the key letter in the browser search bar. I had mine set to 'b', but it still seems to work with the default 'm'.
So, go to the browser search bar - type m and then tab (or b and tab if that doesn't work). Then type the name of the movie you want and press Enter. Seven tabs will then open up of the seven stores, populated by the results.


You can add or edit the URLs in the list of the extension if you want to. If you want to add a shop that I haven't got in my list, then go to your shop online and type a search in that stores search bar. Filter it as you normally would (bluray or 4K or whatever). When you've completed your search, look at the search string in your browser's address field. This is what you want to copy and paste to the list of URLs in the extension, but replace the name of the movie you entered with
%s
Let me know how you get on or if you have any issues.