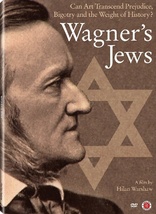 First Run Features has just released a fascinating new documentary on DVD called
Wagner's Jews
, which should certainly be of great interest to those of you who follow my classical music Blu-ray reviews. As many will already be aware, Richard Wagner was a notorious anti-Semite whose opinions help shaped what ultimately morphed into Nazism, and Hitler's love of Wagner's music (and philosophy) helped drive much of the "artistry" of the Third Reich.
This first rate documentary offers a fascinating aspect of this whole sordid drama by looking into the fact that
lots
of Jews either helped or actually worked with and for Wagner during his lifetime. Wagner's own psychological reasons for his anti-Semitism are explored, as in fact are the motivations of the Jews involved in Wagner's career, and the documentary is both thought provoking and insightful, courtesy of a host of interviews with such celebrities as Zubin Mehta.
Filled with interesting archival photos and footage as well as many contemporary interviews,
Wagner's Jews
includes a few supplements as well, including extended interviews and musical performances.
Highly recommended.