Contributor
---
My copy arrived today from Denmark. I have not had a chance to watch the film, yet, but I did take a quick look at the disc.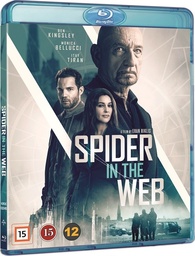 BDInfo scan:
It seems that this disc was designed to come out in other markets, including Australia and Poland, but in the end, Universal only released DVD editions in those territories and their Blu-ray has only been released in the Nordic countries. An initial menu screen can be set for Danish, English, Finnish, Norwegian, Polish or Swedish.
Note that the extra feature is in 1080/50i, though all other content is 1080p.
Code:
                                                                                                                Total   Video                                             
Title                                                           Codec   Length  Movie Size      Disc Size       Bitrate Bitrate Main Audio Track                          Secondary Audio Track
-----                                                           ------  ------- --------------  --------------  ------- ------- ------------------                        ---------------------
00000.MPLS                                                      AVC     1:54:03 33,738,760,512  38,579,470,191  39.44   33.36   DTS-HD Master 5.1 3167Kbps (48kHz/24-bit)
Code:

DISC INFO:

Disc Title:     UPHE_UPB1_726206
Disc Label:     UPB1_726206
Disc Size:      38,579,470,191 bytes
Protection:     AACS
Extras:         50Hz Content
BDInfo:         0.7.5.5

PLAYLIST REPORT:

Name:                   00000.MPLS
Length:                 1:54:03.837 (h:m:s.ms)
Size:                   33,738,760,512 bytes
Total Bitrate:          39.44 Mbps

VIDEO:

Codec                   Bitrate             Description     
-----                   -------             -----------     
MPEG-4 AVC Video        33355 kbps          1080p / 23.976 fps / 16:9 / High Profile 4.1

AUDIO:

Codec                           Language        Bitrate         Description     
-----                           --------        -------         -----------     
DTS-HD Master Audio             English         3167 kbps       5.1 / 48 kHz /  3167 kbps / 24-bit (DTS Core: 5.1 / 48 kHz /   768 kbps / 24-bit)
DTS Audio                       Polish          768 kbps        5.1 / 48 kHz /   768 kbps / 24-bit

SUBTITLES:

Codec                           Language        Bitrate         Description     
-----                           --------        -------         -----------     
Presentation Graphics           English         39.583 kbps                     
Presentation Graphics           Danish          33.490 kbps                     
Presentation Graphics           Finnish         35.422 kbps                     
Presentation Graphics           Norwegian       37.586 kbps                     
Presentation Graphics           Swedish         35.066 kbps                     
Presentation Graphics           Polish          36.431 kbps                     
Presentation Graphics           English         4.286 kbps                      
Presentation Graphics           Polish          0.177 kbps                      

FILES:

Name            Time In         Length          Size            Total Bitrate   
----            -------         ------          ----            -------------   
00000.M2TS      0:00:00.000     1:54:03.837     33,738,760,512  39,438          

CHAPTERS:

Number          Time In         Length          Avg Video Rate  Max 1-Sec Rate  Max 1-Sec Time  Max 5-Sec Rate  Max 5-Sec Time  Max 10Sec Rate  Max 10Sec Time  Avg Frame Size  Max Frame Size  Max Frame Time  
------          -------         ------          --------------  --------------  --------------  --------------  --------------  --------------  --------------  --------------  --------------  --------------  
1               0:00:00.000     0:09:37.368     32,053 kbps     44,170 kbps     00:00:23.273    37,422 kbps     00:00:19.269    36,680 kbps     00:00:14.305    167,098 bytes   420,309 bytes   00:06:29.013    
2               0:09:37.368     0:07:52.471     34,242 kbps     40,218 kbps     00:14:43.549    36,121 kbps     00:13:48.160    35,935 kbps     00:14:09.223    178,520 bytes   424,506 bytes   00:14:49.680    
3               0:17:29.840     0:09:40.955     35,235 kbps     38,404 kbps     00:19:03.517    36,172 kbps     00:17:34.219    35,919 kbps     00:23:46.258    183,700 bytes   408,608 bytes   00:27:10.670    
4               0:27:10.795     0:06:43.027     35,210 kbps     40,017 kbps     00:28:53.815    36,539 kbps     00:28:49.811    36,092 kbps     00:28:44.889    183,571 bytes   472,337 bytes   00:27:47.665    
5               0:33:53.823     0:13:54.250     33,874 kbps     38,497 kbps     00:38:29.098    36,337 kbps     00:36:21.929    36,059 kbps     00:38:20.089    176,602 bytes   542,911 bytes   00:38:26.178    
6               0:47:48.073     0:12:27.413     32,712 kbps     43,454 kbps     00:58:26.836    37,055 kbps     00:58:22.749    36,045 kbps     00:50:57.763    170,543 bytes   477,402 bytes   00:49:02.814    
7               1:00:15.486     0:13:34.230     34,196 kbps     41,320 kbps     01:02:41.007    36,766 kbps     01:02:37.086    36,107 kbps     01:02:54.270    178,281 bytes   430,850 bytes   01:02:57.315    
8               1:13:49.716     0:09:02.083     33,834 kbps     38,002 kbps     01:15:57.928    36,126 kbps     01:15:58.720    35,859 kbps     01:21:21.001    176,397 bytes   465,047 bytes   01:15:58.887    
9               1:22:51.800     0:07:46.507     33,370 kbps     38,651 kbps     01:28:48.698    36,323 kbps     01:26:45.241    36,052 kbps     01:26:40.320    173,974 bytes   486,797 bytes   01:26:46.951    
10              1:30:38.307     0:06:54.288     34,111 kbps     39,509 kbps     01:36:55.559    36,507 kbps     01:36:51.430    36,092 kbps     01:36:46.509    177,841 bytes   416,119 bytes   01:35:36.897    
11              1:37:32.596     0:08:04.692     34,591 kbps     39,289 kbps     01:40:45.914    36,479 kbps     01:40:41.827    36,081 kbps     01:40:36.864    180,341 bytes   422,781 bytes   01:40:46.540    
12              1:45:37.289     0:08:26.547     26,804 kbps     41,586 kbps     01:46:58.620    36,844 kbps     01:46:54.616    36,279 kbps     01:46:49.611    139,742 bytes   610,436 bytes   01:46:59.496    

STREAM DIAGNOSTICS:

File            PID             Type            Codec           Language                Seconds                 Bitrate                 Bytes           Packets         
----            ---             ----            -----           --------                --------------          --------------          -------------   -----           
00000.M2TS      4113 (0x1011)   0x1B            AVC                                     6846.256                33,353                  28,542,881,847  155,221,035     
00000.M2TS      4352 (0x1100)   0x86            DTS-HD MA       eng (English)           6846.256                3,167                   2,709,985,364   15,390,300      
00000.M2TS      4353 (0x1101)   0x82            DTS             pol (Polish)            6846.256                768                     657,242,112     3,851,028       
00000.M2TS      4608 (0x1200)   0x90            PGS             eng (English)           6846.256                40                      33,862,915      192,602         
00000.M2TS      4609 (0x1201)   0x90            PGS             dan (Danish)            6846.256                33                      28,650,363      161,562         
00000.M2TS      4610 (0x1202)   0x90            PGS             fin (Finnish)           6846.256                35                      30,302,999      172,114         
00000.M2TS      4611 (0x1203)   0x90            PGS             nor (Norwegian)         6846.256                38                      32,154,523      181,925         
00000.M2TS      4612 (0x1204)   0x90            PGS             swe (Swedish)           6846.256                35                      29,998,351      170,595         
00000.M2TS      4613 (0x1205)   0x90            PGS             pol (Polish)            6846.256                36                      31,165,808      176,943         
00000.M2TS      4614 (0x1206)   0x90            PGS             eng (English)           6846.256                4                       3,666,765       20,762          
00000.M2TS      4615 (0x1207)   0x90            PGS             pol (Polish)            6846.256                0                       151,578         885
Behind the Scenes
Code:
                                                                                                                Total   Video                                             
Title                                                           Codec   Length  Movie Size      Disc Size       Bitrate Bitrate Main Audio Track                          Secondary Audio Track
-----                                                           ------  ------- --------------  --------------  ------- ------- ------------------                        ---------------------
00006.MPLS                                                      AVC     0:15:46 4,192,247,808   38,579,470,191  35.45   31.95   LPCM 2.0 2304Kbps (48kHz/24-bit)          LPCM 2.0 2304Kbps (48kHz/24-bit)
Code:

DISC INFO:

Disc Title:     UPHE_UPB1_726206
Disc Label:     UPB1_726206
Disc Size:      38,579,470,191 bytes
Protection:     AACS
Extras:         50Hz Content
BDInfo:         0.7.5.5

PLAYLIST REPORT:

Name:                   00006.MPLS
Length:                 0:15:46.000 (h:m:s.ms)
Size:                   4,192,247,808 bytes
Total Bitrate:          35.45 Mbps

VIDEO:

Codec                   Bitrate             Description     
-----                   -------             -----------     
MPEG-4 AVC Video        31953 kbps          1080i / 25 fps / 16:9 / High Profile 4.1

AUDIO:

Codec                           Language        Bitrate         Description     
-----                           --------        -------         -----------     
LPCM Audio                      English         2304 kbps       2.0 / 48 kHz /  2304 kbps / 24-bit
LPCM Audio                      English         2304 kbps       2.0 / 48 kHz /  2304 kbps / 24-bit

SUBTITLES:

Codec                           Language        Bitrate         Description     
-----                           --------        -------         -----------     
Presentation Graphics           English         84.838 kbps                     
Presentation Graphics           Polish          73.562 kbps                     
Presentation Graphics           English         16.701 kbps                     
Presentation Graphics           English         0.015 kbps                      
Presentation Graphics           English         0.015 kbps                      
Presentation Graphics           English         0.015 kbps                      
Presentation Graphics           English         0.015 kbps                      
Presentation Graphics           English         0.015 kbps                      

FILES:

Name            Time In         Length          Size            Total Bitrate   
----            -------         ------          ----            -------------   
00009.M2TS      0:00:00.000     0:15:45.000     4,191,578,112   35,484          
00014.M2TS      0:15:45.000     0:00:01.000     669,696         5,358           

CHAPTERS:

Number          Time In         Length          Avg Video Rate  Max 1-Sec Rate  Max 1-Sec Time  Max 5-Sec Rate  Max 5-Sec Time  Max 10Sec Rate  Max 10Sec Time  Avg Frame Size  Max Frame Size  Max Frame Time  
------          -------         ------          --------------  --------------  --------------  --------------  --------------  --------------  --------------  --------------  --------------  --------------  
1               0:00:00.000     0:08:01.199     32,862 kbps     37,997 kbps     00:07:59.840    36,161 kbps     00:01:39.279    35,906 kbps     00:01:34.359    164,296 bytes   542,798 bytes   00:00:55.000    
2               0:08:01.199     0:07:44.800     31,012 kbps     47,594 kbps     00:15:08.239    36,043 kbps     00:14:45.000    35,854 kbps     00:10:17.680    155,075 bytes   446,996 bytes   00:15:08.840    

STREAM DIAGNOSTICS:

File            PID             Type            Codec           Language                Seconds                 Bitrate                 Bytes           Packets         
----            ---             ----            -----           --------                --------------          --------------          -------------   -----           
00009.M2TS      4113 (0x1011)   0x1B            AVC                                     944.880                 31,991                  3,778,450,933   20,548,912      
00009.M2TS      4352 (0x1100)   0x80            LPCM            eng (English)           944.880                 1,543                   182,196,000     1,134,000       
00009.M2TS      4608 (0x1200)   0x90            PGS             eng (English)           944.880                 85                      10,030,397      56,351          
00009.M2TS      4609 (0x1201)   0x90            PGS             pol (Polish)            944.880                 74                      8,696,980       49,107          
00009.M2TS      4610 (0x1202)   0x90            PGS             eng (English)           944.880                 17                      1,973,212       11,077          
00014.M2TS      4113 (0x1011)   0x1B            AVC                                     0.840                   111                     11,660          112             
00014.M2TS      4352 (0x1100)   0x80            LPCM            eng (English)           0.840                   2,737                   287,356         1,592           
00014.M2TS      4353 (0x1101)   0x80            LPCM            eng (English)           0.840                   2,737                   287,356         1,592           
00014.M2TS      4608 (0x1200)   0x90            PGS             eng (English)           0.840                   16                      1,717           17              
00014.M2TS      4609 (0x1201)   0x90            PGS             pol (Polish)            0.840                   16                      1,717           17              
00014.M2TS      4610 (0x1202)   0x90            PGS             eng (English)           0.840                   16                      1,717           17              
00014.M2TS      4611 (0x1203)   0x90            PGS             eng (English)           0.840                   16                      1,717           17              
00014.M2TS      4612 (0x1204)   0x90            PGS             eng (English)           0.840                   16                      1,717           17              
00014.M2TS      4613 (0x1205)   0x90            PGS             eng (English)           0.840                   16                      1,717           17              
00014.M2TS      4614 (0x1206)   0x90            PGS             eng (English)           0.840                   16                      1,717           17              
00014.M2TS      4615 (0x1207)   0x90            PGS             eng (English)           0.840                   16                      1,717           17