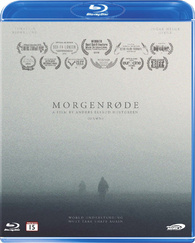 Quote:
Through a post-apocalyptic world where the water supply has been contaminated and civilized society has collapsed we follow two survivors who eye each other with the same suspicion as they contemplate their inhospitable surroundings. The Norwegian science-fiction film MORGENRØDE (DAWN) is a mythological chamber play about faith, the beyond and the struggle against dehydration, in an endless hazy and drab desert. Shot in Iceland, the eerie landscape and hauntingly hypnotic cinematography take you to somewhere that feels bleak, desperate and overwhelming.
I checked out the trailer and clips at the
order page
and imported to the US. Seems like the kind of thing I'd like, reminds me of some Herzog stuff quite a bit. Camera work looks amazing and the soundtrack is up my alley. Requested a signed copy also...
I think there is an alternate case with Norwegian text which can be ordered elsewhere but the disc content is the same.